(First published on 'These Football Times' on March 10th, 2016.)
The thing with being an instantly likeable footballer, is that its oddly linked to being assigned to relative obscurity. As a mercurially gifted playmaker, Gianfranco Zola dazzled fans wherever he played. He was a magician. However, much like the girls at secondary school, tabloids and mainstream history prefer the bad guys. Those who challenge authority are often remembered with added fervour. The guys who go about their day, dazzling in the confides of dignity and unwavering professionalism, are still remembered fondly, yet only win thirty five caps for their country.
As a player, Zola was plucked from Serie C to be Maradona's apprentice at Napoli, won trophies galore in Parma's outrageously talented team of the mid-nineties, and had a rousing effect on Chelsea as they began to establish themselves as a stylish and successful Premier League team. As a manager, a somewhat meandering career path has seen Gianfranco Zola consigned to somewhere just under the radar, unless you happen to follow Qatar's Al-Arabi.
* * *
If Gianfranco Zola was ever likely to be remembered as one of calcio's more controversial heroes, his early career provided the perfect opportunity. Plucked from the relative anonymity of Sardinia by then-Napoli administrator Luciano Moggi, he signed for Napoli in 1989. In one fall swoop, Gianfranco Zola leapt from Serie C, and landed firmly in the restless bosom of Diego Armando Maradona.
Maradona and Zola formed quite the bond.
Having spent five seasons on his home island of Sardinia, initially for Nuoresse and later for Torres, twenty-three year-old Zola played the role of under-study during his Serie A debut season. Still, he managed three goals in twenty-four appearances, and therefore played a significant part in Napoli's second ever scudetto. Endless extra hours after training, spent with Maradona indulging in weaker-foot penalty competitions, and free-kick practise, would stand Zola in good stead.
A twenty year-old Gianfranco Zola at Napoli. Image from here.
Gianfranco Zola's creative mastery was evident from the off.
Maradona and Careca,
Kingpin's of the Napoli attack, gorged on Zola's assists as they both enjoyed a fruitful campaign. However, pertinently to Zola's career trajectory, influence running the opposing direction centred more around the theme of doing magical things with a football, and less around the theme of Neapolitano nightlife.
Napoli endured a terrible defence of their 1990 title. In the spring of 1991, with the club en-route to an eighth place finish, and having been dumped out of the European Cup by Spartak Moscow, Diego Maradona failed a drugs test and left the country in shame. One of his parting sentiments spoke volumes of his appreciation of Gianfranco; "Napoli doesn't need to look for anyone to replace me, the team already has Zola!".
It would take the Neapolitan club years to fully recover from the shockwaves of Maradona's exit.
Christmas 1992 saw the club in the relegation zone, and it was largely the attacking flair and invention of Zola, Careca, and Daniel Fonseca, that rescued Napoli. However, with financial constraints tightening their grip, and a mid-table position secured, both Zola and Careca were sold in the summer of 1993. This set a worryingly inevitable trend. Club captain, Ciro Ferrara, and Daniel Fonseca were sold the following summer, and without funds to buy replacements, only the loan signing of Paolo Di Canio offered a shimmer of hope for Napoli to replicate any attacking flair.
Napoli were eventually relegated in 1998, by which time Gianfranco Zola was a key-player for Chelsea as they celebrated League Cup, UEFA Cup Winners' Cup, and UEFA Super Cup titles.
* * *
As would eventually be the case in West London, Zola was catalyst for success at Parma, his next destination. As one of the club's first big name signings in July 1993, Zola went about quietly, skilfully, and subtly ushering in a new dawn at the provincial club who were on the cusp of the big time.
With the soothing influence of Parmalat's millions, head coach Nevio Scala had already enticed Faustino Asprilla, Tomas Brolin, and Dino Baggio to Stadio Ennio Tardini, and boldly claimed the 1992 Coppa Italia, and the 1993 Cup Winners' Cup. Not bad for a club who entered Serie A for the first time in 1990.
Gianfranco Zola's debut season was a resounding success.
Playing as a second striker, Zola was the clubs top-scorer with eighteen goals, a feat he'd repeat in each of his three full seasons in Parma colours. Spurred on by the attacking exploits of Zola and Asprilla, the 1993/94 season saw Parma cement their place in Serie A, and announce themselves as regular party-goers in Europe. Finishing fifth place in Serie A somewhat masked the achievement of being just nine points behind the champions, and while a 1-0 defeat to Arsenal was a bitter pill to swallow, a second successive Cup Winners' Cup final went a long way in making Europe stand up and take note of Parma.
With the additions of Fernando Couto, Hristo Stoichkov, Fabio Cannavaro, and youngsters Filippo Inzaghi and Gianluca Buffon, Parma had emphatically made their point by 1996. With Gianfranco Zola leading the way in goals and assists, Parma claimed the 1995 UEFA Cup with a final victory over Juventus. Domestically they finished third in Serie A, and were runners-up in the Coppa Italia.
Regrettably, success often spawns greed, and 1996's trophy-less campaign, and sixth place Serie A finish, heralded a summer of change.
Just as a seventeen-year-old Gianluca Buffon was establishing himself as the clubs new local hero, being a product of the clubs youth system, Nevio Scala was on his way out.
Carlo Ancelotti was his replacement, and an appointment which yielded a swath of marquee signings. Pertinently for Zola, Hernan Crespo was one of the new boys, and this meant a few significant tweaks to the structure and selection of Parma's attack.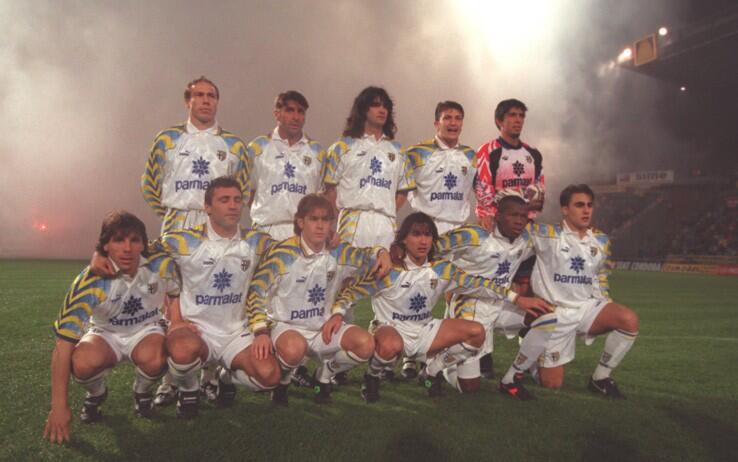 Hair today, gone tomorrow: Parma in 1995: Gianfranco Zola bottom left. Image from here.
Despite being a proven goalscorer, Serie A's dead-ball specialist, a selfless team player, the subject of praise from Maradona, and a winner of several trophies, Gianfranco Zola left Parma in November 1996 with something of a point to prove.
* * *
As Glenn Hoddle left Stamford Bridge to become England manager in the summer of 1996, Stamford Bridge submerged itself in a cultural and footballing revolution.
The late eighties and early nineties were testing times for Chelsea fans. Stamford Bridge was a sparse, hotchpotch football ground, and an un-loved home. Having been wrestled away from the grasp of property developers, it consisted of four unattractive stands, and cars parked in the chasms of space between the goal and the Shed End. As for the fans, most mirrored the un-fashionable 'middle of the road' existence of the club, and there was a distinct absence of younger supporters. Lingering around the Bridge was the disjointed atmosphere of an awkward balance between pride and hope. There was nostalgic yearning for Osgood and Greaves et al, and forced awkward excitement for record signings such as Paul Furlong.
Appointed on the back of success at Swindon Town, Glenn Hoddle had set Chelsea on the path of reinvention. His own stylish, and visionary football philosophy advised the route, and attracting the likes of Mark Hughes and Ruud Gullit truly shook up a mid-table side. With Hoddle departing Chelsea sooner than expected, Ken Bates continued commitment to Hoddle's creative, attractive football, and with an unerring sense of adventure, handed Ruud Gullit the role of player/manager.
Backed by Bates, Gullit made an immediate statement of intent in the transfer market. In doing so, Chelsea's footballing DNA was changed forever. Sexy football was born. Gullit broke the club's transfer record by bringing Roberto Di Matteo to Stamford Bridge from Lazio for £4.9million, Gianluca Vialli arrived on a free transfer from Juventus, and Franc Leboeuf joined from Strasbourg. Twelve games into a new era, Gianfranco Zola joined Chelsea for £4.5million, and set about becoming a bonafide Stamford Bridge legend.
Zola signs at Stamford Bridge in November 1996. Image from here.
In winning the 1997 FA Cup, Zola continued his impressive trend of silverware in his first season at a new club. For

Chelsea, it represented a first major trophy in twenty-six years. still in its infancy, sexy football had an early hey-day.

Headlines lauded the Kings Road as 'swinging once again', tabloids merrily referenced Chelsea's 'foreign legion', and Roman Abramovich was still an unknown name waiting in the wings.
Just as Eric Cantona came to personify the transformation of Manchester United from underachievers to champions, Zola did the same for Chelsea. Cantona did so with an air of self-serving arrogance, laced with moments of controversy and madness, while Zola went about his captivating work with an air of childlike joy, positivity, and that smile.
Gianfranco Zola went on to play seven seasons in the Premier League with Chelsea, and endeared himself to the fans in a way which very few players ever did. Despite success with Napoli and Parma, it's a logical assumption to draw that Zola wasn't at his most content, relaxed, or expressive in Italy.
At Chelsea Football Club, Gianfranco Zola was made a real hero, and given a spiritual home. Zola belonged to Stamford Bridge.
Chelsea fans had yearned for a cosmopolitan, stylish, and accomplished player to pin their self-styled identity on to, and in Zola, they had one of their own. He not only became the poster boy for Chelsea's transition, but for foreigners embracing the English game nationwide.
The tactical freedom afforded to him by Ruud Gullit, Gianluca Vialli, and Claudio Ranieri was the catalyst for his best performances. Zola's own dedicated professionalism repaid the debt, and saw that Chelsea had his extended prime. 2002/03 saw Zola's glorious swan song, a campaign where he finished as Chelsea's top-scorer once again, and helped the team qualify for the Champions League.
Despite giving the appearance and impression of a player in the prime of his mid-to-late-twenties for the entirety of his playing career, Zola was thirty-six years-old when he played his last match for Chelsea. His last goal, an unforgettable lob against Everton on the Easter Monday of 2003 showcased everything that made Zola great; invention, athleticism, flair, and sheer joy. His twenty minute cameo against Liverpool in the last match of the season featured a trademark mazy dribble, which beat four Liverpool defenders, and earned ovations from home and away support.
However, Gianfranco Zola wasn't quite finished there.
Long before the attraction of MLS for aging football stars, and amidst circulating rumours of an impending Chelsea takeover, Zola agreed a twelve-month contract with Serie B Cagliari. In a fitting finale to the career of one of football's most honourable sons, Zola would return to Sardinia to play for the only major club on the island he hadn't yet turned out for.
Having acquired control of Chelsea in July 2003, Roman Abramovich is rumoured to have offered to buy Cagliari Calcio football club as an entirety, just to secure Zola's signature and immediate return. While these rumours have never been confirmed, Zola has stated Abramovich and Chelsea submitted at least an official approach.
Gianfranco Zola, though, is not a man to renegade on an agreement, and would see out his playing days in Sardinia.
* * *
In the summer of 2004, with Chelsea basking in the warm and assuring glow of Jose Mourinho's appointment, Zola inspired Cagliari to promotion to Italy's top-flight. Thirteen goals in an impressive forty-three Serie B matches is testament indeed to Zola's physical condition, but he wasn't done yet.
With the prospect of a finale in the top flight of Italian football, Zola signed a twelve-month contract extension. Months shy of his thirty-ninth birthday, Zola could be found mixing it with the likes of Zlatan Ibrahimovic, Adriano, Andriy Shevchenko, and Kaka. Inspired by their experienced talisman, Cagliari finished a highly respectable twelfth in a newly expanded twenty-team Serie A. Gianfranco Zola made thirty-one appearances, and registered nine goals.
The ultimate game of the 2004/05 season, and of Zola's glittering playing career, saw Cagliari defeated 4-2 by Juventus. The victory crowned Juve as champions, yet under the administration of Luciano Moggi, this was one of two stripped away as part of the calciopoli scandal. Fittingly, the match is now remembered by many for Gianfranco Zola scoring both his side's goals, and again, bowing out on a high.
Zola takes the plaudits as his playing career comes to an end in May 2005. Image from here.
* * *
Though impossible to quantify,
football management is probably part-art and part-science. The ratio will
vary from club to club, and change almost constantly with the particular remits of the moment. As seasons, months, weeks, or even days tick by, a plethora of events present themselves. The manager will respond with anything between an arm round the shoulder, draped in encouragement and care, or, an iron fist raucously supported by a bellowing hair-dryer. Some moments will require ignorance, some undivided attention.
On the evidence of Gianfranco Zola's playing career, it could be safe to conclude that he's simply too much of an artist to make a real success of a coaching career
. Lazy logic would aptly describe the assumption that Zola is 'too nice' to succeed in club management. Lazy, because it's an obvious and somewhat ignorant conclusion, yet oddly logical when Zola's pick and mix managerial CV are examined.
Considering his Chelsea roots, Gianfranco Zola's first foray into management was a brave one. West Ham United took a gamble in appointing Zola, yet to achieve his full UEFA licence, in September 2008. However initial success was underlined by
a brand of attacking and expansive football, and a
top ten finish. Zola was offered, and signed, a four-year contract extension.
The following season would be Gianfranco Zola's first and last full season at Upton Park.
Extenuating circumstances could be a valid excuse for a narrow relegation escape, despite signing Savio Nsereko. A mid-season takeover conducted by David Gold and David Sullivan saw previous cash-strapped, Icelandic owners outed, and the on-field rhythm upset. Zola was relieved of his duties two days after avoiding relegation by five points, and securing West Ham's Premiership status.
Zola spent the 2011/12 season coaching the Italian under 16's squad, and supporting under 21's coach, Pierluigi Casiraghi. The role seemed to suit Zola's attributes well, and not just because from a distance he looked like one of the squad.
Following a successful takeover by the Pozzo family, Zola was installed as Watford manager in July 2012. Under a mild storm of affection for his predecessor, Sean Dyche, Zola had a tough start. Many Watford fans saw Dyche as needlessly dismissed. Witnessing an Italian-flavoured Watford lose seven of their opening thirteen games only stoked the flames of discontent.
However, Zola showed some steel, and as always, a few healthy shovel-fulls of dignity and professionalism, and soon had the Hornets buzzing a merry tune. Watford were playing some attractive football, and steadily climbing the Championship table. Sixth by Christmas, Zola very nearly achieved automatic promotion. It took a final day defeat by Leeds United to confine Watford to the roulette wheel of the play-offs.
The semi-finals saw a narrow 3-2 aggregate victory over Leicester City (Jamie Vardy an unused substitute in both games) set up a Wembley final against Crystal Palace. Sadly for Watford and Gianfranco Zola, an extra-time penalty scored by thirty-nine year-old Kevin Phillips, saw Palace prevail.
If the intensity of the Premier League makes it a testing domain, then the unadulterated marathon of a Championship season is equally demanding. Adding the nuance of play-off final defeat, and the fine margins of lining up at Manchester United or Yeovil Town come the new season's opening day, the psychological effects can be devastating. As Watford wobbled in re-discovering rhythm, Gianfranco Zola resigned in December 2013. Watford were in thirteenth place. Come the season's end, Watford were in thirteenth place.
Just in time for Christmas 2014, Zola received the gift of a poisoned chalice. Being appointed Cagliari boss on Christmas Eve represented a joyfully festive home-coming, yet less than three months later Zola would be replaced by the man who he replaced, Zdenek Zemen.
Since July 2015, Gianfranco Zola has held the position head coach of Qatari side, Al-Arabi. Old friend and one-time mentor, Pierluigi Casiraghi, is his assistant. The team are currently mid-table in the Qatar Stars League, but on something of a downward spiral after winning just two in the last eight matches.
Whether you believe Qatar is a brave new footballing world, or a lavishly funded waste ground designed to give international football folk one last financial hurrah, two things are certain; Gianfranco Zola was a fine footballer, and he's a bloody nice bloke.
Gianfranco Zola unveiled, no pun intended, at Qatari club, Al-Arabi in July 2015. Image from here.