Remember when footballers didn't all resemble their pixelated, athletic, and robotic computer game counterparts? Me too. I remember the comforting baldness of Alan Cork. Offset by a humbling grey beard, he was the type of player who connected the team and the supporter. The same applies to the ageing Ian Rush and his lingering moustache. Neville Southall is another. His ample frame and heartwarmingly beleaguered expression endeared him to thousands, and rarely stopped him from being a top, top goalkeeper.
Neil Ruddock, Atilo Lombardo, Paolo Di Canio, Roy Keane, Matt Le Tissier, Eric Cantona, and Jimmy Bullard, the list misses out many, but highlights players who were a bit different. Some were crazy, some were daft, some had ability and personality of another planet, but none were chiselled robots of a defined type. As players have conformed, for good and bad, to a primed, athletic, and carbon-copied appearance, so too have goal nets.
Now, i'm sure the more sane of you haven't thought about goal nets, you might not even have a top five. However, I for one have had enough of these boringly rigid 'box' nets used in modern day professional football.
Mine was a childhood like many others before and since. It was shared with about ten 'regular's, and supplemented by a rotating group of four or five 'extras'. We played football in the park in our free time. One particularly hazy summers day, we managed to break in to the school sports stores. Our only steal, a crisp white goalnet. After inadvertently setting up a sequence of events which resulted in the ruining of several camping trips, we added pegs and string. Armed with grandads supply of electrical tape, we have the net attached to goalposts, and the kick-a-bout would be halted every ten minutes to redesign the goalnet. We were way ahead of our time. We had box nets supported by nearby trees, we had intricate string systems, tight net styles which would spring the ball back instantly, and saggy net styles which would caress the ball and keep it snuggled in the back of the proverbial onion bag.
Watching Match of the Day last weekend made me realise each and every goal net in the Premiership is exactly the same. That is a shame. With all this conformity and lack of characters in the modern game, we need to celebrate difference more than ever. Therefore, in no particular order, here are some bloody brilliant football nets from times sadly passed...
San Siro, Milan, Italy, 1990...
Italy got it all right while hosting the world cup. OK, let rose tinted glasses blur and diminish all the corruption and mis-spent public funding prior to the tournament. They got most of it right; pure football, gorgeous weather, and glamorous cities. A cracking theme tune, and idyllic surroundings of mountains, beaches, and glamorous cities, are a few of the more obvious successes. Goal netting was a less obvious yet equally charming success. In particular, these gems being used at the San Siro. Tight and taught at the sides, baggy and expansive at the back, and yet they still maintained that spring-like quality of a tighter net. They made every goal scored look just that little bit better than it actually was.
Cameroon stun Argentina in 1990. Image found:
here
Old Wembley, London, England, 1978...
The grand old dame of football's diverse history, in so many ways. And with the goal nets to match. These things lasted from the stadiums opening till Euro 96, and witnessed many a defining moment for players, managers, teams, and tournaments. Their curvaceous stanchion were in line with the grand old dame demeanour, and the sheer space they occupied made that Wembley pitch look and feel just that bit bigger.
Old Wembley in 1987. Class. Image from: here
Estadio Monumental, Buenos Aires, Argentina, 1978...
David Ginola was a flair player. He was skilful aswell as sexy. One of his trademarks, later copied by many others including Real Madrid's Cristiano Ronaldo, was to wear either copious amounts of sock tape, or white ankle socks over the top of his team socks. This didn't do much in practical terms, yet it did lend Ginola a heightened air of flair in the form of a white flash as he skipped past a defender. In Argentina in the late seventies, they did the reverse with their goalposts. Small black strips of paint could be found at the bottom of each post. This, again, didn't do anything in practical terms, yet it lent an air of the exotic. Something different, something aesthetically pleasing and not fully comprehendible. Set against a taught old-school net, with discreet linear stanchions, the result was spectacular.
Image from: here
Stadio Delle Alpi, Turin, Italy, 2003...
We return to Italy, Turin and the home of Juventus, for a creative take on the box-style nets. Many an imaginative groundsman flirted with hexagonal stitching in Italy, and none came out better than the Stadio Delle Alpi. The material used was softer, and more elastic than the standard nylon-based string, so it had a tendency to absorb goals, and hold the ball upon entry. Plus, there was a wonderful explosion and expanse from a more powerful strike. If I could have had any nets at the park, it would have been these ones.
Portman Road, Ipswich, England, 1995...
Ipswich Town Football Club seems to me an awfully agreeable club. Perhaps it's the out of harms way location of East Anglia, or perhaps it's the charm of Sir Bobby Robson, football's truest gentleman. Perhaps though, it's all down to those mad blue nets of 1995/96. They resembled a tent designed by two lower school boys, and therefore didn't quite make any sense. Their inclusion here merited simply for their individuality.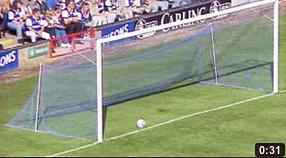 Crazy. And blue. Image found: here
Elland Road, Leeds, England, 1995...
Some goal nets have their qualities defined by their aesthetic value, some by an epic match, and others simply by an epic goal. The thin stanchions, small squared patterning, and expansive nets at Elland Road were defined by Tony Yeboahs absolute honker-stonker of a volley against Liverpool. The narrowed white stanchions added an air of menace to Elland Road in the mid-nineties, not that Elland Road or indeed Yeboah's strike needed it. As the ball crashed in off the cross-bar, instead of laying to res in the netting, it seemed to be further digested just as aggressively. Power house.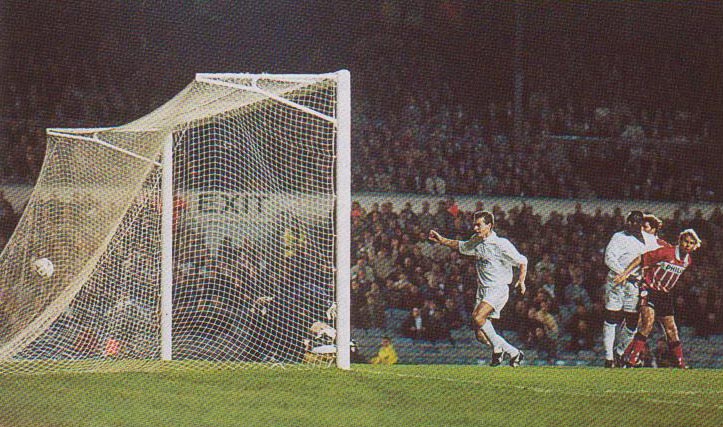 Giants Stadium, New Jersey, USA, 1994...
God Bless America! Bestowed with the honour of hosting the 15th FIFA World Cup, there were skeptics and questions a-plenty directed at the United States. No-one needed to worry, though. Despite a percieved lack of interest in the sport, World Cup viewing figures and average attendance records were set throughout that hot summer of '94, and they still stand today. No small achievement considering the country was, at the time, without a well established domestic league of their own. Admittedly, all grounds had the same goals and goal nets, and one pair did infamously break, but these were obese goals, capable of comfortably swallowing ball and goalkeeper.
Obese goalnets. Image from:
here
Further reading: The History of Goalnets Blog, 2014 WC Goal Nets.
See, it's not just me.